What is panning?
Panning is a photography skill that involves moving the camera left to right or up and down to follow your subject while they are moving. You can also slow the shutter speed down in order to blur the background as you take the picture.
The previous blog post will showed you three of the ways it  can be used. Below are two more ways and some practice tips.
Panning to show movement in the action
By using a long exposure I have shown how you can show movement in a scene like a waterfall, if you are panning however you are trying to show the movement of an object by showing the blurry background. You can use this to make a slow moving subject look like it was moving faster.
Canon 5D II, ISO100 1/40th 16mm F11: By panning I have been able to make this little boy look like he was going faster than he was.
Canon 5D II, ISO100 1/125th 40mm F6.7: By panning I have made this look like the motorbike was going faster than it actually was, but keeping the subject, the passenger on the back as sharp as possible.
Panning to get a shot as its too dark to freeze the motion.
This is almost not relevant any more as ISO is no longer as grainy at "high" ISO as it used to be early-model digital cameras. However, if you are still restricted to using an ISO 1600 or lower, there may be times in dawn or dusk. or under street or artificial light where you may need to pan in order to get a sharp shot.
Canon 5D II, ISO400 1/60th 65mm F5.6: In the rain there is usually less light. Panning has still allowed me to capture the action without blurring the subject.
Canon 5D II, ISO1600 1/125th 21mm F3.2: By panning I have been able to almost freeze the car in mid-air, but still been able to show that it is moving, all in a very poorly lit environment.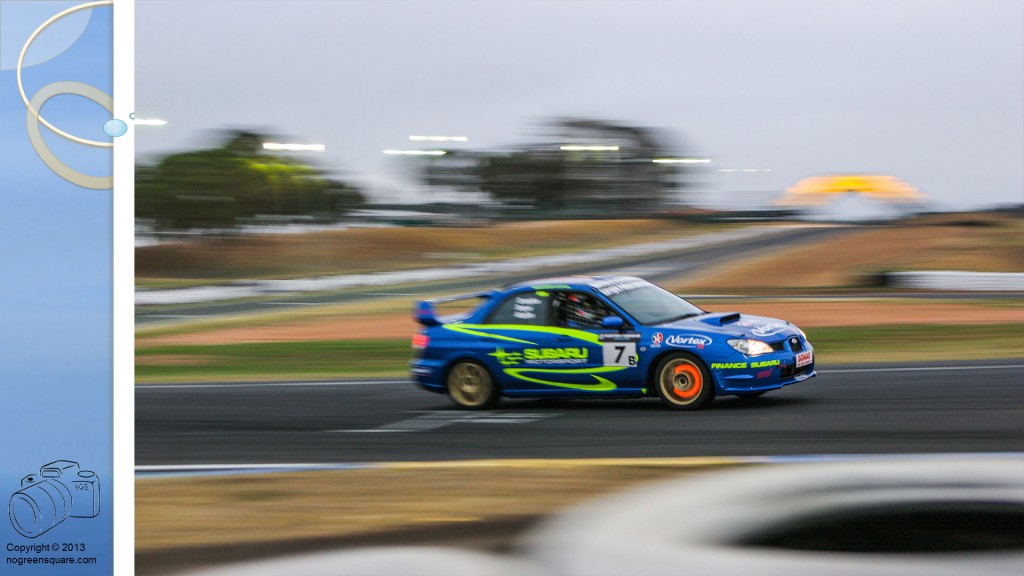 Canon 20D, ISO800 1/40th 40mm F3.5: The upper limit on the 20D was really ISO400. This ISO800 image is very grainy, but by panning I was able to take this image just before dawn at a 24 Hour race. The darkness allows the viewer to see the glowing brakes better.
Try This
To learn how to pan properly, you need to make some decisions about your settings before or while you are taking pictures. To get a better understanding of what you need to set and what to change, you need to be able to register how fast your subject is moving, and change the shutter speed to suit.
I would start with a shutter speed of 1/subject speed in km/h. So, for example, a car moving at 60km/h past you would be shot at 1/60th of a second. Then slow the shutter down further to increase the blurred effect.
You need to be using a continuous focus system on your camera: AI-Servo (Canon) or AF-C (Nikon). Most entry level cameras only have a centre focus point that is better at tracking focus. Revert to your manual for more information.
Stand comfortably and make you are facing where you intend to take the picture through the motion of the panning. Don't twist as you pan and then take your picture when your feet are facing forwards and your twisted to the left or the right.
The best way to practice is to find somewhere that has moving targets that pass you at the same speed. So you can get accustomed to that speed. When you feel that you have practised enough, move to a place where they go faster. And so on, note that the more you practice the better you will get.